Meet Luke, TechForce scholarship recipient & future Aviation maintenance technician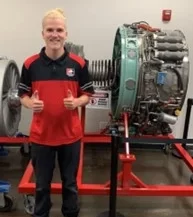 Luke was initially exposed to the possibility of a career in aviation via a field trip with his school. He says, "We took a field trip to a small local airport to find out more about its operations and possible vocational opportunities that lie within that type of business. I once again found myself interested in aircraft and how they are maintained and operated. It all seemed very exciting!"
He is very excited about his aviation maintenance program, and is particularly enthusiastic about the opportunity he will have to work on aircraft at the National Aviation Academy aircraft hangar.
Regarding his ultimate career goals, Luke says, "I would like to travel around the world and work on aircraft for an aviation company."
From the Gridiron to the Hanger
Luke says that being a high school football captain helped him learn to be a leader. He was a co-captain on his freshman team, and there was significant conflict among the players.
"To say I had my work cut out for me was an understatement. Before we even had our first game there were constant arguments and disagreements. The coaches spoke to the co-captains and said you must lead by example."
Luke was able to implement this suggestion, "I remembered what the coaches had told me about leading by example and I began working hard along with the other players and we came together as a team. We were the first freshman team in many years that had an undefeated season!"
Luke's Scholarship
Luke's education has been financially stressful on his family, because he has 3 siblings, all of whom are also in college right now. Additionally, his family experienced periods of decreased income due to the COVID-19 pandemic.
Luke is incredibly grateful for the tuition support provided by the Accelerate Tuition Scholarship Award, which will help him cover the cost of school and start his career on solid footing.
About TechForce Scholarships
TechForce Foundation is a national nonprofit, 501(c)(3) with the mission to champion all students to and through their education and into careers as professional technicians. TechForce powers the technician workforce by awarding more than $1.5 million in scholarships and grants annually, with more than 40,000 students supported since 2007.
Learn more and apply for TechForce scholarships and grants at TechForce.org/Scholarships