The Techs Rock Awards are open, our new Technician Supply & Demand Report is on the way, new scholarships and free events are available, and the TechForce app is live. TechForce Foundation's October newsletter is all treats, no tricks!


---
TOP STORIES – October 2022


Techs Rock Awards are now open – Nominate a technician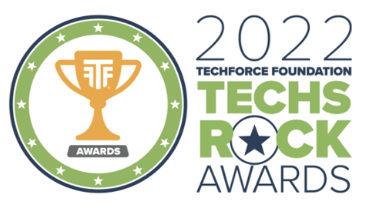 Nominations for TechForce's 2022 Techs Rock Awards are open through Friday, November 4th. More than $17,500 in prizes along with industry-wide recognition will be awarded to five transportation technicians. Nominate a tech now at TechForce.org/TechsRock!


2022 Technician Supply & Demand Report to be released next week
TechForce Foundation's Supply & Demand Report is relied upon by executives, recruiters, and educators throughout the industry as the authority on the ongoing technician shortage. The highly anticipated 2022 update will be released next week from AAPEX in Las Vegas! Keep an eye on your inbox for the announcement. In the meantime, catch up on the 2021 Report for an idea of what's to come.


Get the TechForce App!




---
SCHOLARSHIPS & FINANCIAL AID – Apply now!
Don't let the cost of school scare you this Halloween. TechForce scholarships and grants cover educational expenses including tuition, tools, books, transportation, and even emergencies! Visit TechForce.org/Scholarships to discover scholarships from around the industry, on top of the opportunities below:



Opportunity: TechForce Accelerate Tuition Scholarships
Deadline: Oct 31, 2022 | Amount: $1,000–$2,000
Learn more and apply>>



Opportunity: Life Happens Emergency Grants
Deadline: Oct 31, 2022 | Amount: $400–$1,200
Learn more and apply>>



Opportunity: Ford Training Scholarships
Deadline: Oct 31, 2022 | Amount: Varies by Award
Learn more and apply>>



Opportunity: Driven to Care: Dale Schneider Memorial Fund
Deadline: Oct 31, 2022 | Amount: $1,000
Learn more and apply>>



Opportunity: Pedal to the Metal Advanced Training Tuition and Relocation Awards
Deadline: Oct 31, 2022 | Amount: $450–$1,000
Learn more and apply>>




Opportunity: Federal Student Loan Debt Relief
Deadline: Apr 30, 2023
Amount: Up to $10,000 or $20,000; See application for details
Learn more and apply>>


---
UPCOMING EVENTS
Meet up with TechForce at these upcoming events. Be the first to know about free tickets to events & experiences. Get the TechForce app at TechForce.org.
Visit the TechForce STEM Career Center at AAPEX 11/1-11/3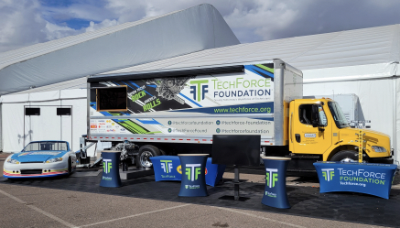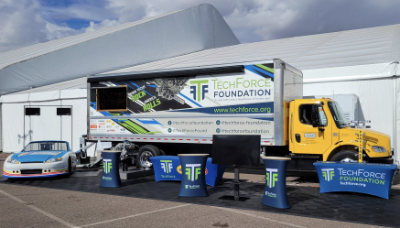 If you're in Las Vegas next week be sure to stop by our mobile STEM Career Center, sponsored by Autolite and Penske Truck Leasing, at AAPEX 2022. Our interactive exhibit is open 9 am – 5 pm Nov. 1st to 3rd in the Tool & Equipment Section on the 1st floor of the Venetian Expo, Booth R-8438. See you there!


Your free ticket to Collision Careers Pit Stop on 11/19 & 12/10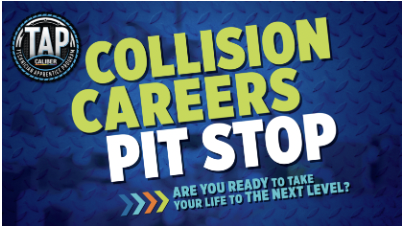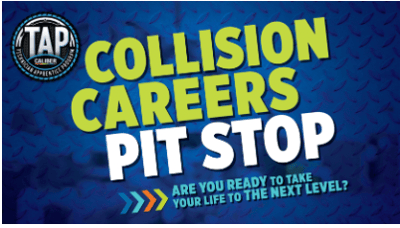 Collision Careers Pit Stop is coming to Texas for events on Nov. 19th and Dec. 10th. Attendees will get exclusive collision shop tours, hands-on paint and technician demos, and the chance to modify, race and even win a high-speed RC car! The event is hosted by TechForce, Learning Undefeated and Caliber Collision. Registration is free but limited, so get your tickets today>>


---
MORE NEWS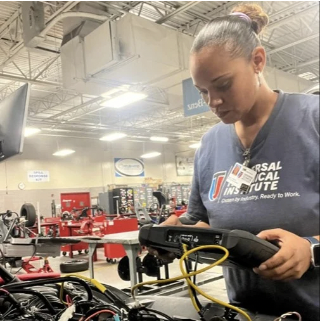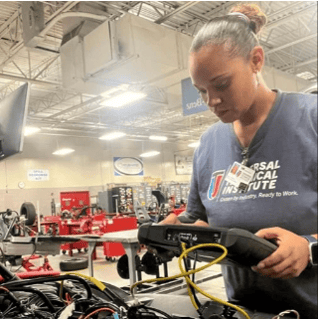 Grant recipient Jinelee found her passion during the pandemic
Women Techs Rock grant recipient Jinelee discovered her passion for a tech career during the pandemic, and is already well on her way to achieving her new dream of owning an all-women's garage! Let Jinelee's story inspire you to find a TechForce scholarship of your own.


Support TechForce at no cost to you with AmazonSmile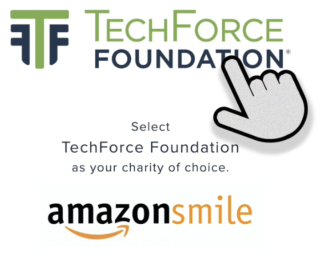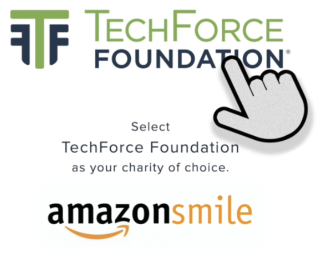 Your Amazon shopping can support TechForce by following these simple steps: 1) Go to Smile.Amazon.com, 2) Sign in, 3) Select TechForce Foundation as your charity, and 4) Start shopping! A percentage of your Amazon purchases will support TechForce at no cost to you. Be sure to shop at Smile.Amazon.com instead of plain old Amazon.com this holiday season!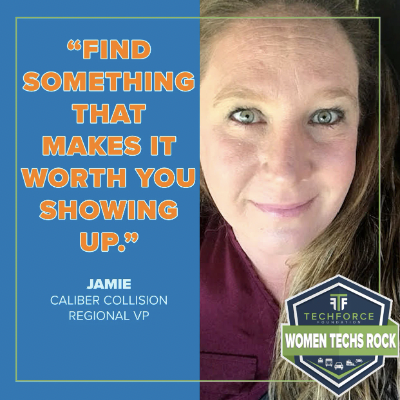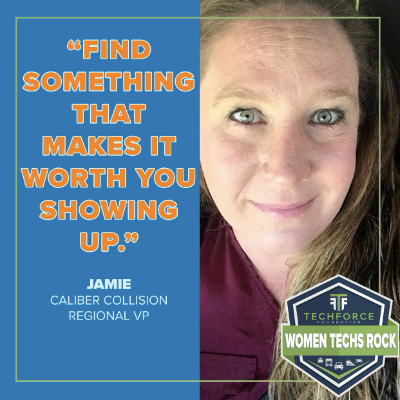 #WomenTechsRock: Caliber VP Jamie's career took her from tech to exec
TechForce recently featured a conversation with Caliber Collision Regional VP Jamie in our #WomenTechsRock interview series. Jamie started with Caliber Collision even before she was a tech, and worked her way up to where she is now. Watch the interview to hear Jamie's advice.
Know a tech we should interview? Tell us at TechForce.org/WomenTechStories


Join the great organizations below in supporting TechForce. Donate now
Thank you to TechForce Foundation's top-tier corporate partners and celebrity ambassadors!


For TechForce news, follow us on social media.
Meet Jinelee, Women Techs Rock Grant Recipient
Women Techs Rock grant recipient Jinelee discovered her passion for a tech career during the pandemic, and is already well on her way to achieving her new dream of owning an all-women's garage!
How Jinelee got interested in a tech career
In the early part of the pandemic Jinelee experienced some medical problems that put her on unpaid leave. During that time, she says, "I just started working on my own truck, fixing and replacing parts. I began to spend my nights watching YouTube videos on random mechanic work, and found myself looking for things I could fix on my truck and what I could do to make it look and run better. Slowly, working on my truck dragged me out of an unhealthy place. Fixing my truck took me to another world where I felt like I was dancing and singing. Everything seemed so positive. Never in my life would have I thought this was something I would like. I had never tried it. But now I feel as if it is my calling… I have found a new skill that I love. Automotive!"
Early signs a tech career was the right fit
Looking back on her life, Jinelee admits there were signs that a technician career was in the cards for her.
"When I think about the things I used to do when I was little or even as an adult, it makes sense. I used to love fixing my bicycle and my friends' bicycles, rollerblades and skateboards. I loved to put puzzles together and build random things out of anything I could find. As I got older, I still found myself doing similar things, such as building or putting together furniture. Using my hands to repair, build and just get my hands dirty has always been my thing and I NEVER realized it until I started working on my truck."
Passion powers progress towards tech career
Jinelee says she is amazed how far she has come in such a short time, and she has big dreams for her future.
"I want my own car shop. A very girly shop. I want the equipment to be bright, fun colors, and I want it to have only women mechanics!"
Life's challenges inform Jinelee's perspective
Jinelee has overcome numerous very difficult personal challenges, but despite this, she says, "[My] focus [is] on people's efforts. I like to make others feel positive, empowered, worthy, appreciated, and supported. I am one that can communicate encouragement to help people move forward but also hold them accountable in a loving way when tough love is needed. It's important to inspire one another, challenge one another in reaching our full potential and celebrate each other for our successes."
She is elated to have received the Women Techs Rock grant. Jinelee has worked incredibly hard to discover and be able to pursue her passion for a tech career. She is extremely grateful for this generous gift that will let her follow her passion, and hopefully inspire future women technicians!
If Jinelee's story inspired you, we invite you to learn more about a technician career at https://techforce.org/our-work/#career-exploration
TechForce Foundation Now Accepting Nominations for its 4th Annual Techs Rock AwardsTM through Nov. 4
Five transportation technicians to be recognized for outstanding contributions as role models in their shops and communities
October 20, 2022 – SCOTTSDALE, AZ — TechForce Foundation's® annual Techs Rock Awards season has begun. TechForce created this prestigious award to honor professional technicians who mentor and inspire the next generation of techs, bring excellence to their workplaces and communities, and demonstrate passion and commitment to the profession. The Techs Rock Awards are accepting nominations through 5 PM PDT, November 4, 2022 at TechForce.org/TechsRock.
Since 2018 technicians have received more than $27,000 in prizes. Over $17,500 in prizes will be awarded in the 2022 Techs Rock Awards:
Each Category Winner, selected by a panel of industry experts, will receive prizes valued over $1,700 from TechForce partners including Ford Motor Company, AutoZone, CRC Industries, Snap-on Industrial, Advance Auto Parts, WD-40 Company and Cengage.
The Grand Prize Winner, as chosen by popular vote, will receive additional prizes valued over $8,500 from Advance Auto Parts, CRC Industries, Ford Motor Company, Snap-on Industrial, WD-40 Company and AutoZone.
Technicians will be considered for one of five categories including Pay it Forward, Rookie of the Year, Die Hard Tech, Outstanding Mentor and Barrier Buster. A panel of celebrity judges will select one Category Winner from each of the five categories. The Grand Prize Winner will be selected from the slate of Category Winners via a People's Choice Public Vote, to be held November 28 – December 2, 2022.
2022 Techs Rock Award judges include Emily Reeves, Flying Sparks Garage; Charles Sanville, The Humble Mechanic; Bogi Lateiner, Bogi's Garage; Pete Meier, Motor Age Magazine; and Julia Landauer, Julia Landauer Racing.
2021 Grand Prize Winner and Carmax technician Donald Ranquist recently reflected on what winning has meant for him, "I don't usually brag about myself… This is really exciting. Thank you! Getting a trip to [the 2022 STX Supplier & Training Expo in Orlando] is a huge opportunity… The training that comes with it, being able to take that back to my team… and the different tools and items… have helped [me] get [my] jobs done."
TechForce Foundation will be releasing a 2022 update to its Technician Supply & Demand Report at the 2022 AAPEX show addressing the ongoing technician shortage. Recognition programs like the Techs Rock Awards help address that shortage. These programs are vital not only to retaining technicians but to repositioning the public's perception of technician jobs as the high-tech, rewarding, new-collar careers that they are.
The Techs Rock Awards are part of TechForce's workforce development campaign to inspire and support tomorrow's workforce of technicians. TechForce also created the first and only social network designed and gamified for professional technicians and tech students to connect with each other, employers and schools (TechForce.org). The transportation community is supporting it with content and using it to learn, connect, find events, and explore job opportunities while competing for prizes and leaderboard status.
About TechForce Foundation
TechForce Foundation is a nonprofit, 501(c)(3) with the mission to champion all students to and through their education and into careers as professional technicians. TechForce powers the technician workforce by awarding more than $1.5 million in scholarships and grants annually to financially-disadvantaged students; changes perceptions towards this evolving, 'new collar' STEM career; and provides local career exploration and workforce development programming. TechForce's online, social network of students, working technicians, instructors, employers, industry professionals and enthusiasts committed to championing the technician workforce is the conduit through which the charity delivers its free resources, programs and career hub for the benefit of aspiring technicians. For more information, visit TechForce.org. Follow us on TikTok, Facebook, Instagram, Twitter, Linkedin and YouTube.
###