The official newsletter of TechForce Foundation®, made possible by donors like you who believe everyone should have a chance to succeed.


Hello,

Spring is in full swing! Our March newsletter has your free event tickets, scholarships and updates. Read the ways TechForce is helping students through their education and into careers as professional technicians.
Be sure to mark your calendar for a big TechForce announcement coming on March 30!


---

Top Stories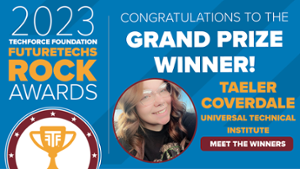 Congratulations to 2023 FutureTechs Rock Awards Grand Prize Winner Taeler Cloverdale! Meet all 10 students recognized in this year's Awards at TechForce.org/FTR23Winners.
Stay tuned for the 2023 Techs Rock Awards, celebrating professional technicians. Nominations open May 15 at TechForce.org/TechsRock.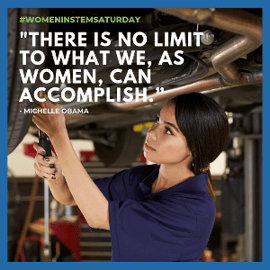 From windshield wipers and road trips to the freedom to drive, women continue to make countless contributions to how we all get around. TechForce celebrates women in transportation history this month, and every other month this year. Join the conversation with #womentechsrock.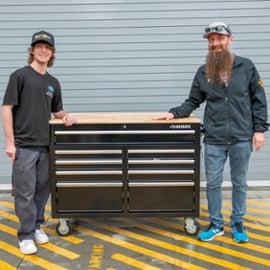 Ford ASSET technician student Jeffrey Johnson was selected from hundreds of TechForce scholarship applicants to receive the Ultimate Beginner Toolbox, built with $2,500 in tools by The Humble Mechanic himself! Watch the build here.


TechForce spoke with Monica, a Heavy Duty Technician who works on everything from big trucks to tractors and heavy equipment. Listen to her #WomenTechsRock interview to hear what Monica loves about being a technician.


---

Scholarships & Grants
We're doubling our scholarships in 2023 to $2.3 Million! Head to TechForce.org/Scholarships to learn how TechForce can help you cover the cost of your technical education. New scholarships are awarded each month, so submit your general application today.



TechForce Accelerate Tuition Scholarships
Deadline: March 31, 2023 | Amount: $1,000–$2,000
Learn more and apply>>



Driven to Care John F. Weinberger Legacy Scholarship
Deadline: April 30, 2023 | Amount: $1,000–$6,000
Learn more and apply>>



Nissan Students: TechForce Accelerate Tuition Scholarship
Deadline: March 31, 2023 | Amount: $1,000–$2,000
Learn more and apply>>



Automotive Aftermarket Scholarships
Deadline: Mar 31, 2023 | Amount: Varies
Learn more and apply>>



Women in Trucking Foundation Scholarships
Deadline: April 16, 2023 | Amount: $1,000
Learn more and apply>>


---

Upcoming Events
Join us for an upcoming event! Find our full calendar of industry events, ticket giveaways, and more in TechForce. Request your tickets with your own free account here>>


– Fri, 3/24 @ NHRA Arizona Nationals
– Sat, 4/1 @ EVIT Auto Skills Challenge
– 4/14 – 4/16 @ Grand Prix of Long Beach
Stop by for hands-on games including the Pit Crew Challenge, talk to TechForce staff and learn about high-tech in-demand tech careers. Log in to find more events.


Log in or create your TechForce account to request your free tickets to these and future events: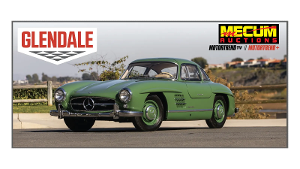 – 3/24 – NHRA Arizona Nationals
– 3/25 – Trans Am Atlanta Speed Tour
– 3/30 – Mecum Glendale Experience
– 4/14 – Mecum Houston Experience


---

Get the TechForce App!
Join the great organizations below in supporting TechForce.

Donate Now




Thanks to TechForce's top-tier donors!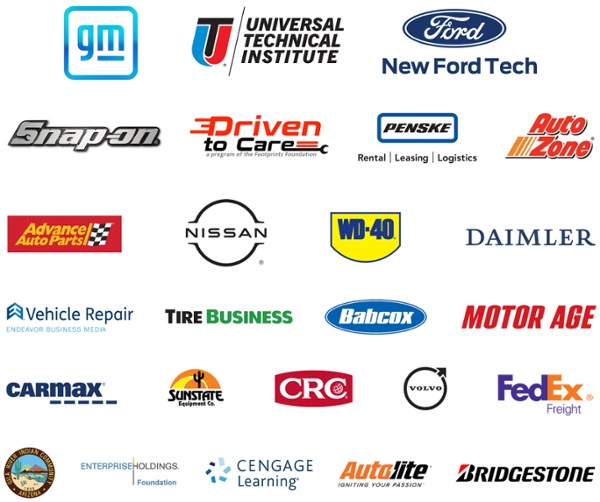 TechForce Foundation 12621 N. Tatum Blvd.

Suite 304 Phoenix

AZ

85032