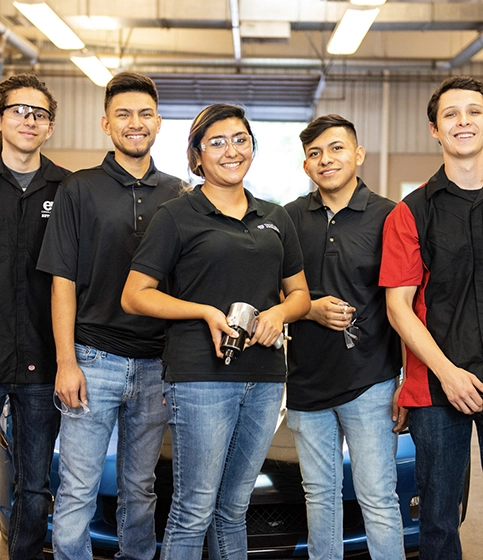 Our Mission
Powering the
Technician Workforce
TechForce powers technical careers so communities thrive. We are a community of students, working techs, educators, industry,  and philanthropic donors committed to powering the next generation of skilled technicians (Hence the name "Tech-Force").
TechForce is the only nonprofit 501(c)(3) committed to the career exploration and workforce development of professional technicians across all sectors including (but not limited to) automotive, aviation, collision, diesel (trucking, agriculture, construction, heavy-duty, stationary engines, and rentals), fleets, marine, motorcycle, motorsports, restoration, welding, and emerging technologies.
TechForce inspires people to explore the technician profession; supports students obtaining the technical education needed to be workforce-ready; and connects techs to resources, mentors and employers to thrive in their careers. Our mission is to champion all students to and through their technical education and into careers as professional technicians.
As a public charity, TechForce is funded by donations from corporations, foundations and individuals.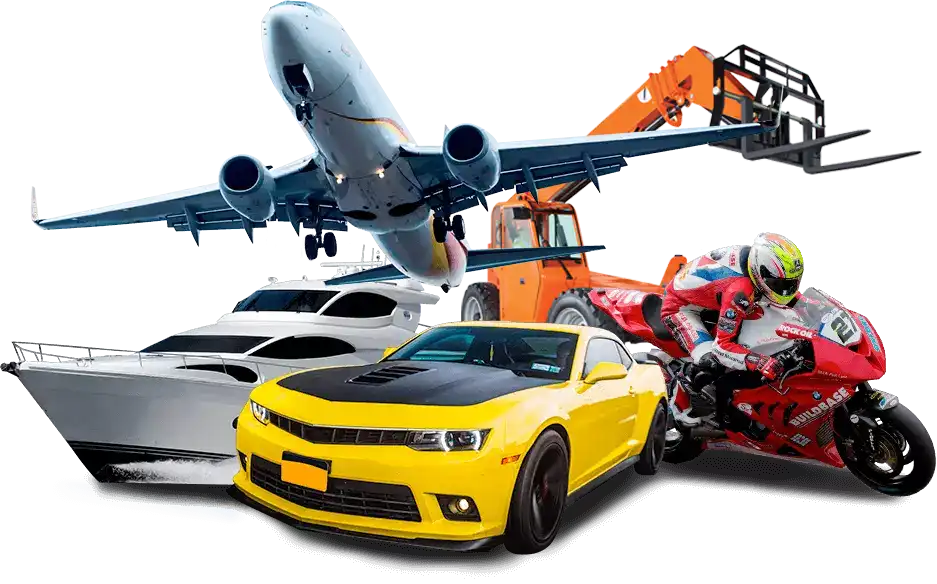 Supporting ALL Technicians
OUR FINANCIALS
Committed To Transparency
TechForce Advisory Councils
Instructors Advisory
Council
The voice of instructors from high schools and post-secondary technical schools across the country.
National Leadership Cabinet
Top tier strategic alliance partners and early adopters have a front row seat to solving the technician shortage.
Diversity, Equity & Inclusion Council
Leading our commitment to diversify the technician workforce, including our Women Techs Rock initiative.
TechForce Board of Directors
Donor Spotlight: Ford Motor Company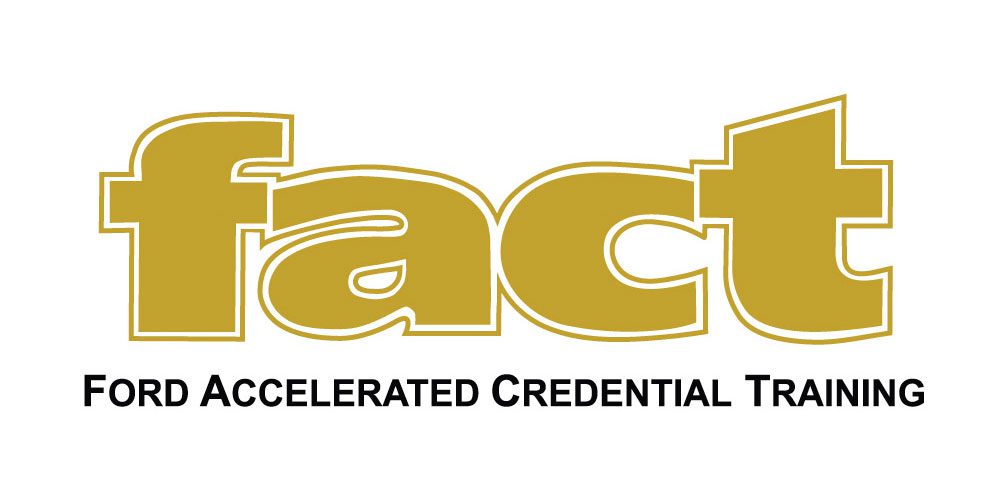 New Ford Tech and TechForce
Ford Motor Company selected TechForce to administer all its technician Ford FACT and Ford ASSET scholarships across the U.S. and enthusiastically activates TechForce's promotions with a Ford tech recently being named the national winner of the Techs Rock Awards.
Strategic Alliance Partners
When TechForce expanded its mission in 2016 to not only include scholarships and grants, but also career exploration and workforce development solutions, these companies donated the seed money to jump start our efforts. We thank them for maintaining their level of support ever since.

Principal & Major Gift Donors ($10K+)
The Brzoznowski Family Fund
Judge Joe Cassini & Caroline Cassini
Steve DeMarzio
John & Bernadette Hennan
Kim & Chris McWaters
NGK Spark Plugs 
Roger Penske Foundation
University of the Aftermarket
TechForce Champions ($1,000+)
Angie Babin
China Auto Group
Chris Blanchette
Barrett Crane
CT's Automotive
Mark Ferner
Mike Hoffman
Humble Mechanic/Charles Sanville
Michelle Johnson
Denise Kingstrom
Jennifer & Greg Maher
Kim McCullough
Gregory Settle
Sills Family Foundation/ Boston Group
White Family Dealerships
In Memorium Funds
Andrew Carl Sliwinski
William "Willy" Bertoti
Terry Emig
John F. Weinberger
Andrew VanGorder
Justin E. Beutel
John E. Leao II
Bobby Bove
Daniel W. Gruber
John & Helga Garofalo
Jerry W. Reynolds Sr.
Matthew W. Madole
Brienne Davis
Richard "Pup" Conklin
Association & Nonprofit Partners
Our community of donors giving via monthly, recurring pledges (<$1,000).
A - G Donors
Darryl Abercrombie
Lance Ahrens,
Tammy Jo Akans
Jeff Albridge
Shawn Alexander
Mark Anderson
Troy Anderson
Jason Antone
William Bachmann
James Baird
Jamie Bales
Steve Barnett
Hailee Bates
Michael Benfer
Jen Bergeron
Eric Bessette
Debra Biffar
Mike Blankenship
Jason Bochner
Cheryl Bravo
Mark Brenner
Michel Brown
Darrin Brust
Nick Byall
Audra Cardenas
Keri Cariaga
Ruth Cayler
Teresa Chakos
Nikaulus Chartier
Pam Collier
Kara Corbin
Victoria Cotton
Jeffrey Covington
Jessica Cuellar
Miquel Day
Theresa DeSantiago
Kandice Debnar
Alexandra DeJesus
Rosangela Dempster
Abbey Dingus
Lauren Dorgan
Patrick Dozier
Brenda Ellington
Jerry Ellner
Theresa Emehiser
Matthew Falanga
Jeff Fitzgerald
Betsy Flores
Barry Fodor
Taryn Fortner
Pedro Franco
John French
FullBay
Christina Garcia
Mark Garcia
Deborah Garrett
Anais Gauna
Karen Gehre
Sebina Gljiva
Carol Green
H - O Donors
Mark Hall
William Hanks
Ian Hardie
Nikole Harper
Paul Hathaway
Adam Heller
Brenda Hicks
Jennifer Howard
Rachel Hughes
Katherine Hunter
Anna Hyde
David Isidori
Brendon Jenkins
Jimmy Jenkins
Tracy Johns
Arsenia Johnson
Cynthia Johnson
Michelle Johnson
Steven Johnson
Tiffany Johnson
Terra Jones
Linda Jones
Bambi Jorgensen
Kelly Keating
David Keil
Kristina Kenworthey
Anna Kerrigan
Robert Kessler
Thomas Koehler
Duane Kramer
Julia Landauer
Kim Laney
Nicole Larsen
Michelle Lawler
Kevin Lythgoe
Esmeralda Macias
Stacie Mallen
Alice Martin
Leao-Martin Family
Anne Mason
Sonia Mason
Scott Matthiesen
Carrie McClarin
Cheryl McClure
Sandra Mendez
Mark Merrill
Cody Metcalf
Don Miller
Daniel Monroe
Rich Monsalve
Douglas Moore
Jeff Muecke
Julie Mueller
Andreea Mulholland
Melissa Nelson
Russell Nichols
Eric Nielsen
Jennifer Njuguna
Madi Nottingham
Cindy Olson
Nicole Osborn
P - Z Donors
Leigh Ann Palone
Andrew Parrott
Savanna Pena
Maris Phillips
Keith Pittman
Hank Powell
Darrell Proffitt
Marisela Puente
Morgan Pyle
Cheryl Radke
Chuck Rathmann
David Brian & Kevin Reid Fund @ Schwab Charitable
Kevin Renner
Tracy Rhoades
Brenda Richards
Karla Rodriguez
Marissa Rodriguez
Stephanie Rogers
John Rojas
Michael Romano
Brian Ross
Ed Rowe
Patricia Rubino
Brendan Ruvolo
Laura Sands
Melanie Scheet
Tony Schimka
Garret Schweitzer
Tony Sciarra
Chris Sjosteen
Jamie Smith
Kristin Smith
Richard Smith
Sherrell Smith
Radesh Sookram
David Stuckey
Antonio Tagal
Jason Tagal
Hazel Tarbox
Sharon Taylor-Ellis
Julie TenBarge
Allen Teters
Claude Toland
Dana Travis
Richard Vargas
Tom Varrone
Miguel Velarde
Alanna Vitucci
William Vogt
Michael Wade
Trish Wadya
Joseph Walker
Sandra Walker
June Webster
Jade West
Lori Westergard
Mary Wheeler
Lynne Whitman
Debra Wilson
Carrie Woods
Amanda Yanez
Flor Zarate
Kimberly Zener
A - G Collaborators
AutoBio LLC
AutoShop Solutions
Automotive Software Advisors
H - O Collaborators
Harbor Freight
Hunter Engineering Company
Greg Maher
P - Z Collaborators
RoushYates
Greg Settle
SVRA
Quorum I.T., LLC
REPORTS &WHITE PAPERS
Technician Supply & Demand Report and other thought-leadership findings.
What is TechForce's mission?
Our mission is to champion all students to and through their education and into careers as professional technicians.
What is TechForce's vision?
We harness the collective resources of the transportation industry to develop tomorrow's diverse workforce of qualified technicians by:
Increasing awareness and enthusiasm for the profession;
Providing resources to help access quality education for those with financial need;
Connecting future techs and industry through mentorship and career development opportunities.
How is TechForce structured?
TechForce is an Arizona nonprofit corporation designated by the IRS as a 501(c)(3) charitable organization. Contributions are tax deductible. TechForce works nationwide to power the technician workforce. TechForce's staff, consultants and volunteers work remote across the U.S. We are directed by a 15-member, volunteer board of directors comprised of industry employers, technicians and professionals, instructors and philanthropists.
How long has TechForce been in existence?
TechForce was founded in 2005 and began operations in 2007 as the Universal Technical Institute Foundation. For the first eight years, it existed as a scholarship and grant organization, supporting financially-disadvantaged students who chose to attend a UTI campus. In 2014, the charity's board of directors elected to expand its mission to do more to solve the technician shortage and support students everywhere. In 2016, the organization changed its name to TechForce Foundation, expanded its scholarships to support students attending more than 70 additional, post-secondary technical institutions, launched new programs and entered into strategic alliances to fuel career exploration and workforce development of the technician profession. Today, TechForce is leading industry-wide collaboration to solve the technician shortage and working the fill the pipeline by inspiring, supporting and connecting students everywhere.
How does TechForce power the tech workforce?
TechForce serves as the convener of students, working techs, instructors, employers and enthusiasts via its social network. TechForce is the hub for career exploration, workforce development and job placement of professional technicians. TechForce leads storytelling about the opportunities the career offers; provides hands-on workforce development opportunities for young people, and is the largest nonprofit scholarship provider exclusively for students pursuing the technician profession.
What are TechForce's programs and services?
TechForce 1) promotes the professional by sharing information, resources and marketing that reframes the technician profession and dispels myths and stigmas; 2) provides hands-on experiences to engage students with auto/diesel technology, explore the career and get workforce ready; and 3) awards more than $1.5 million annually in scholarships and grants to support technical education (students, schools and fellow nonprofits). Additionally, TechForce collaborates with businesses, schools, associations and nonprofits offering additional workforce development solutions and provides links to these valuable resources through its TechForce network.