The official newsletter of TechForce Foundation® , made possible by donors like you who believe students should find an education and career that fits.
April 2023
Hello,
Short on time? Here are two quick ways to connect now:
Join TechForce to access scholarships, events, training, and more resources for free. Invite your friends to join with you, too!
Donate. Help us champion technical education and careers so that communities thrive.
---
Top Stories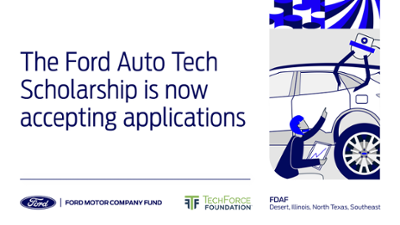 Thanks to a $1 million donation from Ford Motor Company Fund and Ford dealers, TechForce will nearly double scholarships awarded in 2023 to financially-struggling students who dream of becoming auto/diesel technicians! Read the full announcement>>
Nominate professional technicians you know for the 2023 Techs Rock Awards from May 15-26 at TechForce.org/TechsRock. Five technicians will be recognized with $15,000+ in prizes and industry-wide recognition, with one winning a trip to STX 2024 in Orlando, FL!
TechForce recipient Jinelee reaches new heights
If you've been following TechForce, you know Jinelee. In just three years Jinelee went from Googling how to fix her own truck to learning from professionals and is now a professional technician herself! Read Jinelee's story>>

Last chance! Donation match ends tonight
Your charitable donation to TechForce Foundation will be matched, dollar for dollar, through Thursday, April 27. Your donation helps the thousands of students like Jinelee that TechForce supports each year. Don't miss out—Donate to double your impact now>>
---
Scholarships & Grants
TechForce is awarding $2.3 million in scholarships & grants in 2023 to help technician students cover the cost of attendance, emergencies, and more. Sign in & submit your general application! 
Awards are made each month. Current opportunities include:
Accelerate! Tuition Scholarships ($1,000 – $2,500 ea)
"Life Happens" Emergency Relief Grants ($400 – $1200 ea)
Driven to Care John F. Weinberger Legacy Scholarship (up to $6,000)
Ford Fund Auto Tech Scholarship ($5,000 ea /$2,500 per semester)
We're committed to helping you find every scholarship you can. Visit the TechForce scholarship portal to find ones from Harbor Freight Tools for Schools, STEAM Sports Foundation, and more organizations throughout the industry.
---
Events
Summer is nearly here! Sign in to TechForce to view our full calendar of upcoming events near you. New events are added each week.
Students and instructors can request free tickets for these events in our current ticket giveaways:
Mecum Indianapolis | May 16, 2023 in Indianapolis, IN
The Ridge SpeedTour | June 9-11, 2023 in Shelton, WA
Driven to Care at Road America | July 15, 2023 in Plymouth, WI
Portland SpeedTour | July 22, 2023 in Portland, OR
---
TechForce in the News
---
Join our top-tier donors in supporting TechForce. Donate Now
---
Get the TechForce App