TechForce engagement opportunities this month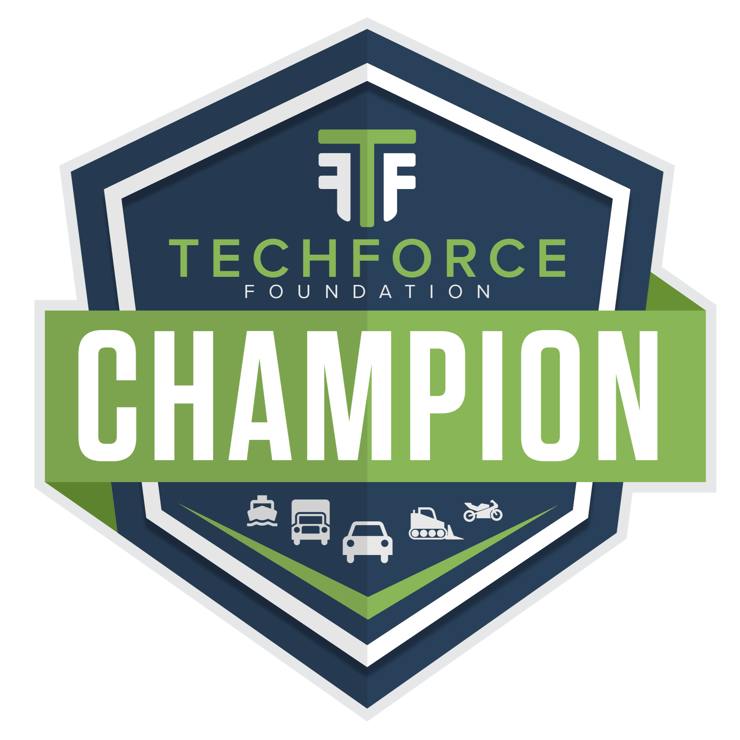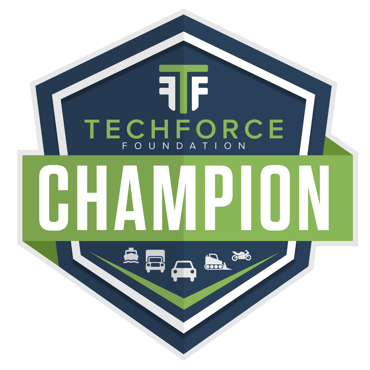 TechForce's FutureTechs Rock Awards are open now. Nominations close on Tuesday, April 19. Tips to activate the Awards with your workforce or customers can be found here>> Certainly you know a tech student who rocks. Build respect and loyalty by nominating them!
Please continue to promote the TechForce Career Network and our Women Techs Rock DEI interview series. We need your help spreading the word!


---
EVENTS
Join TechForce's free Social Network for tickets to upcoming events! Get started>>
CLOSING SOON: FutureTechs Rock Awards – $17k in student prizes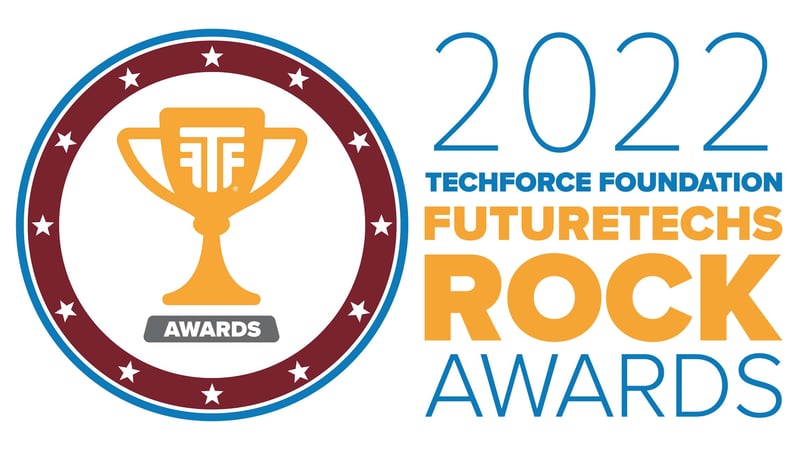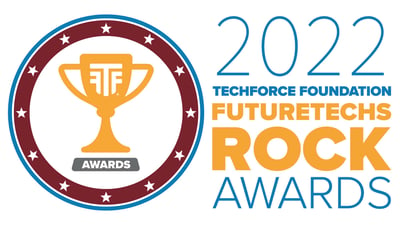 The FutureTechs Rock Awards™ nominations are open now through 4PM PT on April 19, 2022. You could win your share of more than $17,000 in prizes! Nominators also have a chance to win prizes worth $225 each. Learn more and nominate a technician student before the April 19 deadline at TechForce.org/FutureTechsRock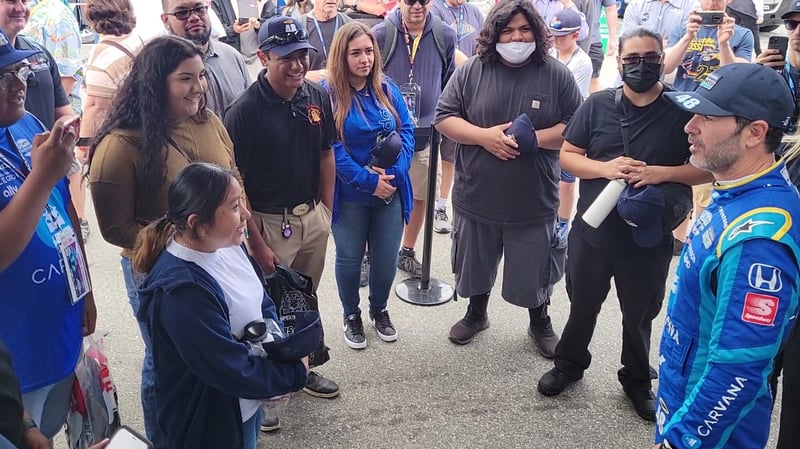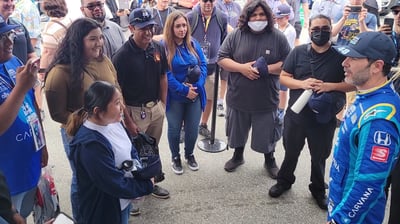 TechForce students at INDYCAR with Jimmie Johnson and Carvana
TechForce partnered with Carvana and Jimmie Johnson for an amazing INDYCAR weekend in Long Beach! 25 students from 10 schools across the country attended the event with tickets from the TechForce Network.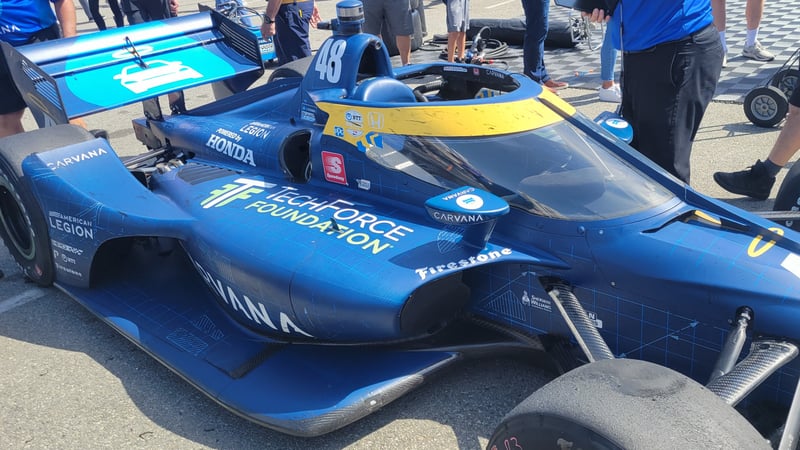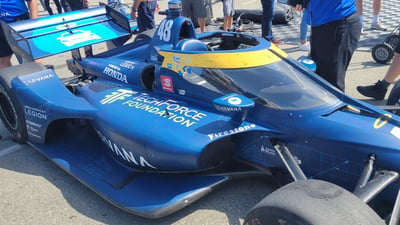 The students met Jimmie Johnson and the #48 crew, and saw Jimmie's TechForce Foundation branded car in action! Don't miss your chance to attend future events. Create your free profile in TechForce's Social Network to access future experiences like these in your area.
Watch it again: Online Q&A with real INDYCAR technicians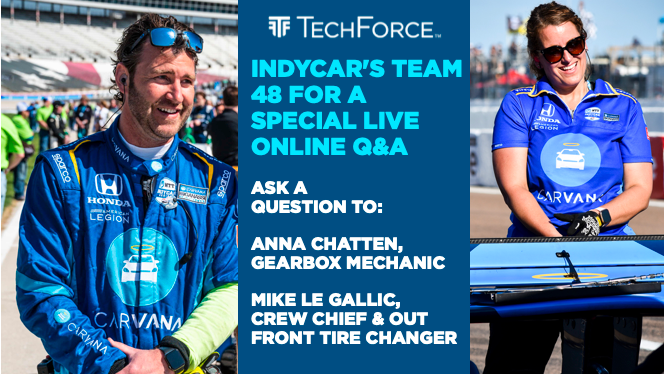 Watch last week's Q&A with Mike Le Gallic and Anna Chatten of INDYCAR's Team 48! Le Gallic and Chatten answer questions from TechForce Network members and offer expert insight on how to get your start as a professional racecar technician. The event is brought to you by Carvana and TechForce Foundation. Watch it for free here>>
---
SCHOLARSHIPS – Apply now!
Are you a student, or do you know one? TechForce awards $1.5 million in scholarships and grants each year to help students pay for their technical education. See scholarship opportunities below from TechForce and our partners:

Opportunity: TechForce Accelerate Tuition Scholarship
Deadline: April 30, 2022 | Award range: $1,000 – $2,000
Learn more and apply>>



Opportunity: Work Ethic Scholarship Program
Awarded by: mikeroweWORKS Foundation
Deadline: April 14, 2022 | Award range: Varies; $1M to be awarded
Learn more and apply>>

Opportunity: The Women In Trucking Foundation Spring Scholarship
Awarded by: Women in Trucking Foundation
Deadline: April 15, 2022 | Award range: $1,000
Learn more and apply>>

Opportunity: ASCEF Annual Scholarship
Awarded by: Automotive Service Councils Educational Foundation
Deadline: May 31, 2022 | Award range: $500 – $1,000
Learn more and apply>>
---
TECHFORCE NEWS
Stay up to date with news and other updates from TechForce Foundation below.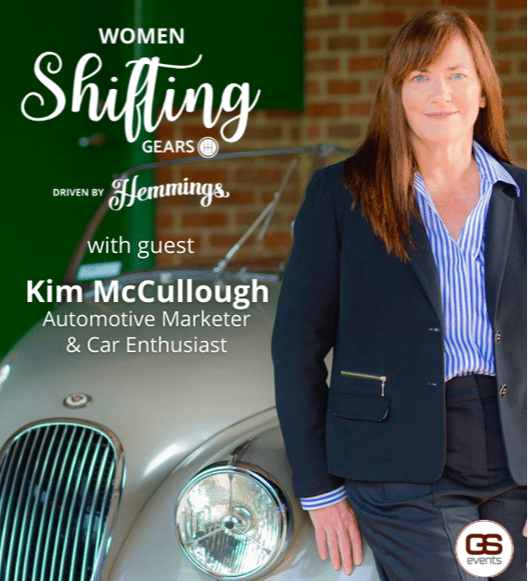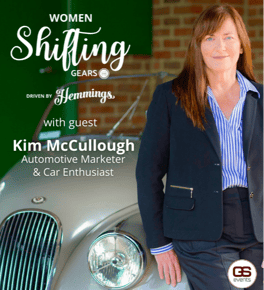 TODAY: TechForce Board Member Kim McCullough on Women Shifting Gears
Join TechForce Board Member Kim McCullough for a live episode of the Women Shifting Gears podcast today at 7 PM EDT/ 4 PM PDT. Learn from Kim's experience as an automotive marketing executive and lifelong lover of cars. RSVP to reserve your seat and receive a link to the live virtual event>>
#WomenTechsRock – Meet diesel technician Makayla Andrews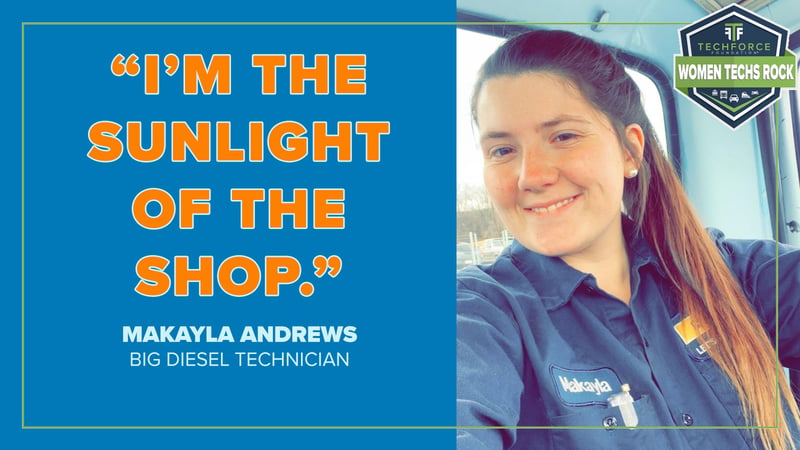 Professional diesel technician Makayla Andrews knows it can be nerve-wracking to start any job, let alone one where you might feel like the odd person out. Her advice? Approach your work with enthusiasm and a positive attitude, and the rest will follow. Watch Makayla's interview for her tips for success>>
Help us inspire more technicians like Makayla. Tell TechForce about a woman technician who rocks>>
CarMax tech honored at STX 2022 for Techs Rock Grand Prize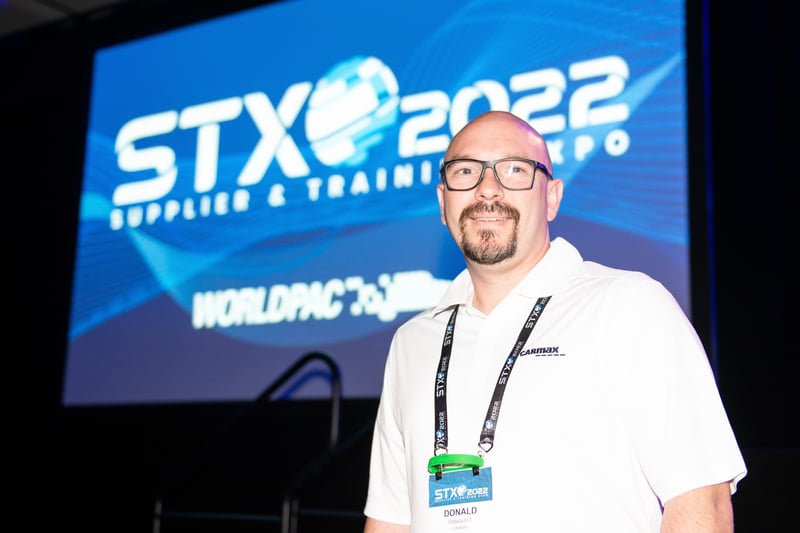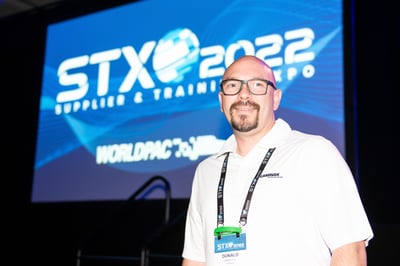 CarMax technician and 2021 Techs Rock Awards Grand Prize Winner Donald Ranquist joined TechForce staff and was honored on stage at WorldPac's Supplier and Training Expo (STX 2022)! Donald won a trip to the Expo in Orlando as part of his Grand Prize, thanks to our partner Advance Auto Parts. Learn more about the 2021 Techs Rock Awards>>. Nominate a student for the 2022 FutureTechs Rock Awards today>>
Have you joined the TechForce Network?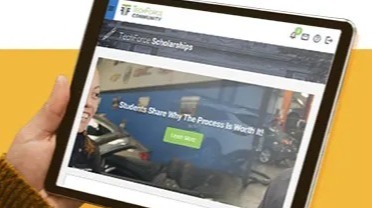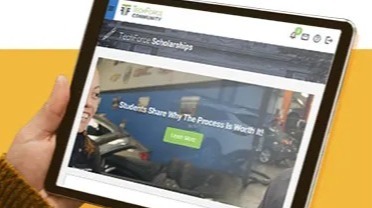 Take advantage of everything the TechForce Social Network has to offer. Log in to your free account to access training, job postings, contests, events, scholarships, and more! If you haven't joined TechForce, what are you waiting for? Create your profile for free today>>
Harbor Freight Tools for Schools Prize for Teaching Excellence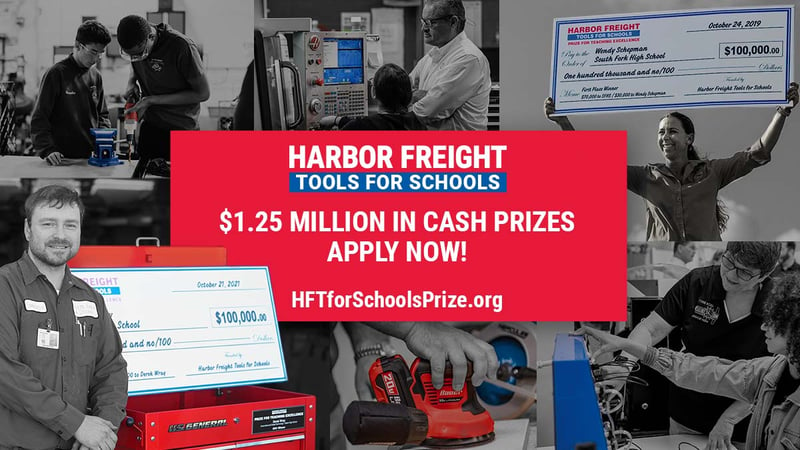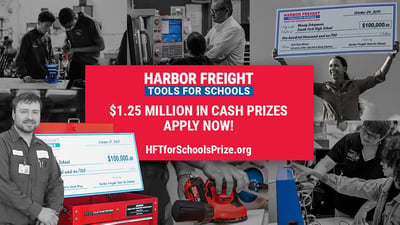 Don't let an outstanding teacher miss their chance at the 2022 Harbor Freight Tools for Schools Prize for Teaching Excellence! Our friends at Harbor Freight Tools for Schools are awarding $1.25 Million to 20 skilled trades teachers and programs in U.S. public high schools. The deadline is May 20. Apply today>>
On the move: TechForce's STEM Career Center at EVIT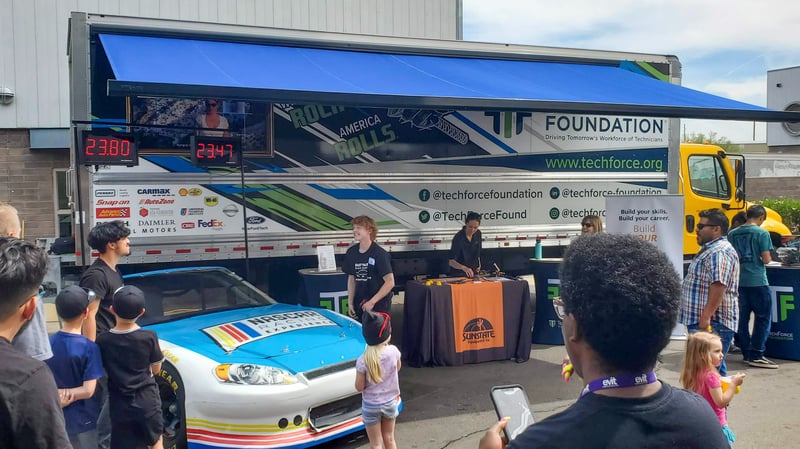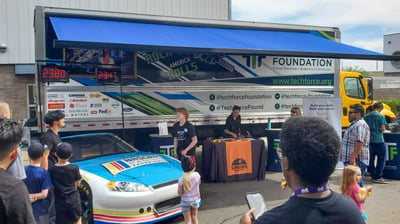 TechForce's STEM Career Center was at the East Valley Institute of Technology's (EVIT) Automotive Skills Challenge and Career Fair. Students from 12 local high schools stopped by the exhibit to learn about the TechForce Network, win giveaways, and meet with recruiters from our corporate partners. Find upcoming events near you at JoinTechForce.org>>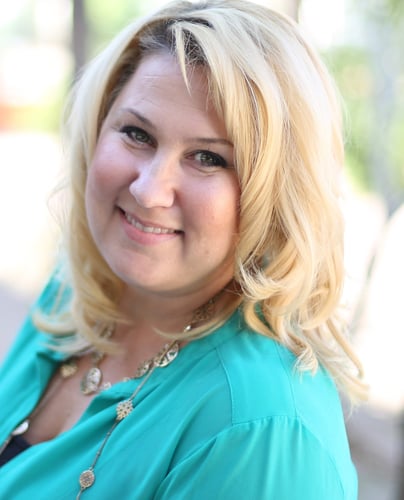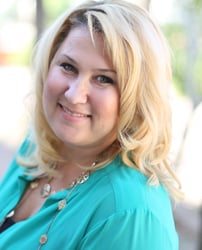 TechForce Foundation welcomes Lisa Evans as its Chief Development Officer
TechForce Foundation welcomes Lisa Evans, CFRE, as our Chief Development Officer. Evans brings over 20 years' experience in non-profit development, and TechForce is thrilled to welcome her to the team! Read the official announcement here>>
Lyft joins TechForce workforce development campaign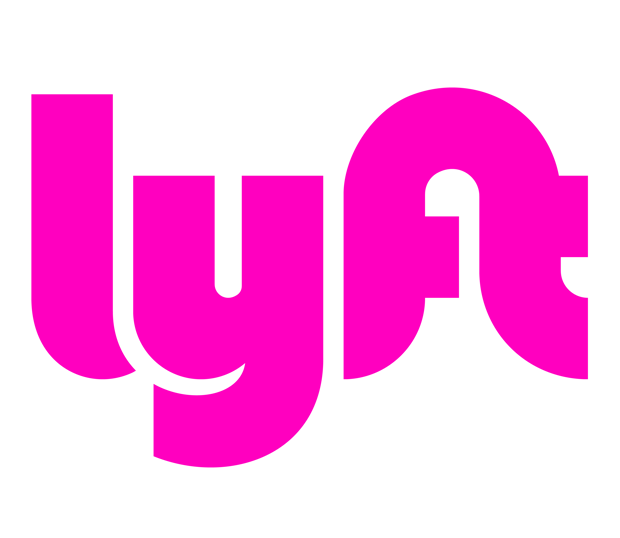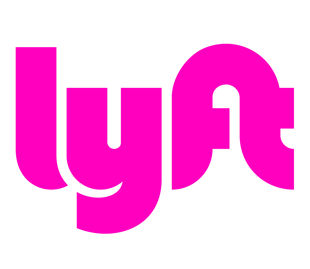 TechForce Foundation welcomes Lyft as a donor to our Life Happens Emergency grant program, contributing rider credits to students needing emergency transport to get to school or work, as they build their professional technician careers. TechForce looks forward to the partnership with Lyft to fuel the pipeline of future technicians. See the full list of TechForce supporters here>>
Join the great organizations below in supporting TechForce. Donate now>>
Thank you to TechForce Foundation's top-tier corporate partners and celebrity ambassadors!


TechForce Foundation 4848 E. Cactus Rd.


 

#505-304 Scottsdale

 

AZ

 

85254