This post was originally published October 24, 2022. The following is new information added April 25, 2023.
From 0-60: Jinelee is Reaching New Heights
Jinelee's journey to becoming a tech started in 2020 with a broken-down car on the side of the road.
How a broken-down truck got Jinelee going
As she sat stuck for three hours because of an overheated engine, Jinelee felt the dread of not knowing what to do without the money to fix it.
Days later Jinelee took matters into her own hands. Thanks to YouTube, Google and instruction from a local shop she was able to get her truck back on the road! It was in this experience that Jinelee found her calling.
"I felt so proud of myself, I felt accomplished… Never in my life would I have thought this was something I'd like. I had never tried it, but now I feel as if it is my calling."
Where Jinelee is now, three years later
Jinelee recently graduated from her Mercedes-Benz technician training program (pictured right), and has sinced been hired by Mercedes-Benz!
From a novice just three years ago to a professional technician today, she's amazed by how far she has come in such a short amount of time. The challenges throughout her journey didn't stop her, and they show us what's possible when people come together to give others a little help along with way. 
Jinelee received a number of TechForce scholarships and grants throughout her journey. That support helped make it possible for Jinelee to continue pursuing, and ultimately achieve her incredible accomplishments.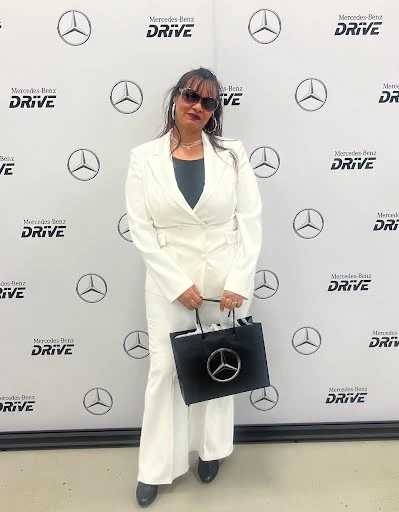 The original post from October 24, 2022 is continued below.
Meet Jinelee, Women Techs Rock Grant Recipient
Women Techs Rock grant recipient Jinelee discovered her passion for a tech career during the pandemic, and is already well on her way to achieving her new dream of owning an all-women's garage!
How Jinelee got interested in a tech career
In the early part of the pandemic Jinelee experienced some medical problems that put her on unpaid leave. During that time, she says, "I just started working on my own truck, fixing and replacing parts. I began to spend my nights watching YouTube videos on random mechanic work, and found myself looking for things I could fix on my truck and what I could do to make it look and run better. Slowly, working on my truck dragged me out of an unhealthy place. Fixing my truck took me to another world where I felt like I was dancing and singing. Everything seemed so positive. Never in my life would have I thought this was something I would like. I had never tried it. But now I feel as if it is my calling… I have found a new skill that I love. Automotive!"
Early signs a tech career was the right fit
Looking back on her life, Jinelee admits there were signs that a technician career was in the cards for her.
"When I think about the things I used to do when I was little or even as an adult, it makes sense. I used to love fixing my bicycle and my friends' bicycles, rollerblades and skateboards. I loved to put puzzles together and build random things out of anything I could find. As I got older, I still found myself doing similar things, such as building or putting together furniture. Using my hands to repair, build and just get my hands dirty has always been my thing and I NEVER realized it until I started working on my truck."
Passion powers progress towards tech career
Jinelee says she is amazed how far she has come in such a short time, and she has big dreams for her future.
"I want my own car shop. A very girly shop. I want the equipment to be bright, fun colors, and I want it to have only women mechanics!"
Life's challenges inform Jinelee's perspective
Jinelee has overcome many very difficult personal challenges, but despite this, she says, "[My] focus [is] on people's efforts. I like to make others feel positive, empowered, worthy, appreciated, and supported. I am one that can communicate encouragement to help people move forward but also hold them accountable in a loving way when tough love is needed. It's important to inspire one another, challenge one another in reaching our full potential and celebrate each other for our successes."
She is elated to have received the Women Techs Rock grant. Jinelee has worked incredibly hard to discover and be able to pursue her passion for a tech career. She is extremely grateful for this generous gift that will let her follow her passion, and hopefully inspire future women technicians!
If Jinelee's story inspired you, we invite you to learn more about a technician career at https://techforce.org/our-work/#career-exploration