TechForce Foundation is a nonprofit that relies solely on the support of businesses, individuals and the communities we serve to inspire, support and connect students to technical education and careers. Our approach is holistic, engaging with students throughout their journey, from career exploration into training and onto placement. Whether it's making a donation, providing tools and equipment or being an ambassador for the cause, you can impact their success by getting involved today!
Donate any amount to fuel our mission. Contributions are 100% tax deductible.
Negotiate a win/win contractual relationship.
Donations of equipment, cars/vehicles and probono services are always needed.
Be a mentor, public speaker, advocate or influencer in the lives of future techs.
I'd like to support aspiring technicians!
You can submit via credit card with the link below or you can send a donation to 12621 N. Tatum Bld #304, Phoenix, AZ 85032
Other ways to make a financial donation:
Corporate Strategic Alliances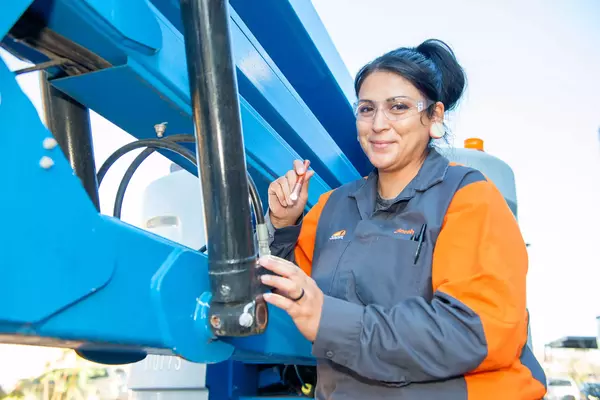 Negotiate an integrated, win/win strategic alliance with TechForce that delivers contractual marketing rights and benefits while making a positive, societal impact. Bundle cash and in-kind donations, employee volunteerism, and cause branding with outcomes including local engagement with future techs and schools, named scholarship funds, tie-ins with our DEI initiative, and presence in the TechForce network.
Case Study: A Strategic Alliance in Action

"Thanks to TechForce, Sunstate Equipment was able to connect immediately with Conor and welcome him to our company. Our recruiting systems are good, but not infallible. Can you imagine if Conor had been scooped up in the meantime by another company? What a loss that would have been. TechForce heard from Conor that he wanted to work for Sunstate, and ensured we knew it." Larry Cox, Vice President Government Affairs & Community Engagement Sunstate Equipment


Donate training aids (vehicles, tools, lifts, cut aways, safety equipment and consumables) to TechForce to reinvigorate high school auto, diesel, collision, welding, EV and restoration programs across the United States.
Watch this video to see this high school's auto shop transform into a quality, training environment.
Contact our Development Team if you would like to discuss an in-kind donation. Development@techforce.org
School Training Aids
TechForce and FedEx Freight place your donated equipment & training aids in high schools nationwide so auto, diesel and collision programs thrive.
Donate Your Car
TechForce and its turnkey car donation program converts your old baby into cash to fuel our mission, or places it in a school as a student training aid.
Student Support

Gas cards, car repairs & tires, motel rooms, food vouchers, shared ride credits and rental car donations help students stay in school when emergencies strike.
Probono Services
Nonprofits always need probono legal, marketing, advertising, printing, fulfillment and office support services. Help us save budget & donor dollars!
Volunteer to Support Future Techs
TechForce Influencers/Ambassadors Duties
TechForce Influencer/Ambassador Volunteer Program
Whether you can help with social media, public speaking, or hosting students at local events, play a role in the life of a future tech. Influencers/Ambassadors serve as our volunteer corps nationwide.
Thank you for your support!
Meet Some of Our Influencers & Ambassadors
These volunteer 'connectors' use their influence, passion, personality and work ethic to share the TechForce mission and rally resources to support students in their career exploration and workforce development.
Sarah 'Bogi' Lateiner is an automobile mechanic, small business owner, technical educator, and reality-TV personality. Bogi is known for teaching car maintenance and repair classes for women nationwide.
Charles Sanville, aka The Humble Mechanic, is a Master Certified Volkswagen technician who turns wrenches on modern Volkswagens. His website builds relationships between technicians and customers.
Julia Landauer is an American professional stock car racing driver and motivational speaker. She currently races in the NASCAR Whelen Euro Series' EuroNASCAR 2 division with PK Carsport.
Donor Spotlight:
Driven to Care
John F. Weinberger Legacy Fund
"My heart swells when I see the smiles of young people sharing our passion for cars, racing and the auto industry ."
John and Lisa Weinberger enjoyed a life and career together immersed in cars, racing and the automotive industry. John started as a mechanic, went on to own Continental Motors, a significant dealership in Chicagoland, became an avid car collector and vintage racer. 
When John passed in 2020, Lisa established the Driven to Care: John F. Weinberger Legacy Fund and selected TechForce Foundation to administer the scholarships and student experiences. Hundreds of students a year now benefit from this career exploration and technical education support.
Is TechForce a nonprofit 501(c)(3)? Are donations tax-deductible?
Yes, TechForce Foundation is a charitable, nonprofit with its 501(c)(3) designation from the IRS. Contributions are tax-deductible.
Is TechForce national or local in scope?
TechForce is an Arizona nonprofit corporation working nationwide to power the technician workforce. Our TechForce Network is a Cloud-based, social network for students, working techs, instructors and employers. Students attending any accredited post-secondary tech school across the U.S. can apply for  scholarships, tap resources and attend student experiences. At the same time, TechForce works locally through school partnerships, event producers and TechForce Ambassadors to foster local relationships and boots-on-the-ground, community engagement.  
How do I become an Influencer or Ambassador?
TechForce welcomes volunteers who are serious "connectors", willing to introduce us to their vast network/followers, help fundraising and build awareness of TechForce and its mission, able to public speak and conduct media interviews on our behalf, host student groups at car shows and events in their communities, and represent TechForce locally with our donors and strategic alliance partners. If you are interested in becoming an official TechForce Influencer/ Ambassador, complete the Volunteer Application. 
How much time does volunteering take?
As a volunteer, you're in the drivers seat and can choose options from 30 minutes once in a while to on-going, monthly commitments. Elect to give 30 minutes at your area car show to greet a small group of students, introduce them to club members and briefly share the stories behind the cars they're seeing. This small act can change the trajectory of students' futures dramatically. Volunteer to have lunch with a group of students who have benefitted from your scholarship donations to put a face and mentor behind the gift. Serve as a judge once a year at a skill competition or online recognition contest. Help to fundraise, public speak, or serve on a committee. You tell us what you're interested in doing and how often– and TechForce will plug you in accordingly.
What value and benefit might I receive by donating to TechForce?
First and foremost, we hope you value the societal impact your contribution makes. TechForce custom crafts our donor relationship to move the needle on causes they're most passionate about, from youth, career exploration and technical education to workforce development, solving the shortage, and sharing the passion for cars with the next generation. 
Second, TechForce has built an infrastructure to deliver great, deliberate value to our investors, from impact measurement, ability to meet students and aspiring techs, community relations and PR, employee engagement and volunteerism, customer activation, brand building, experiential marketing, the ability to post jobs and hire techs, and opportunity for TechForce to administer scholarships, student experiences or tech school support in your name (or that of a loved one or business).
Finally, both companies and individuals may enjoy a charitable tax deduction, and often companies elect marketing or business expense write offs. 
How do I donate in-kind stuff? Is it also tax-deductible?
TechForce accepts in-kind donations that are on our list of mission-critical items needed by schools, students or TechForce itself and that have a current fair market value of at least $5,000+
Yes, donations of budget-relieving items may be eligible for charitable tax-deductions.
If you have an in-kind donation, contact info@techforce.org. TechForce will grant the donation to a deserving school or student through its application & grant system. Our partner FedEx Freight ensures equipment donations get delivered to school recipients.